So these are photos of where all the fun goes down here in San Jose. We thought it'd be good to give you a glimpse into our day in, day out lives.
Home, sweet home (that'd be Ashlyn out front):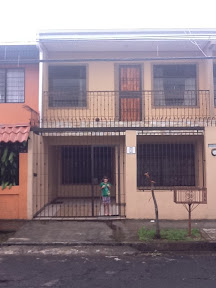 Looking from our language school down toward the kids' school, Sojourn Academy. The school is set into a hill, so the different buildings are tiered on the property:
And just a fun photo showing just how wet rainy season is. The sidewalk grows algae! And not only that but the sidewalks also grow an equivalent to Montana's black ice. If you look closely you'll see that there's a black tinge to the sidewalk. When that baby's wet expect some slippin' and slidin'!
And finally, a special treat for those of you who've followed the post thus far. This, this, our friends, is just a snippet of the crazy fun that goes down in esta casa (posted with Zack's permission, but without Brody's):
Don't everyone send record offers all at once, now. We're quite occupied with being missionaries at the moment.
Posted using BlogPress from my iPad